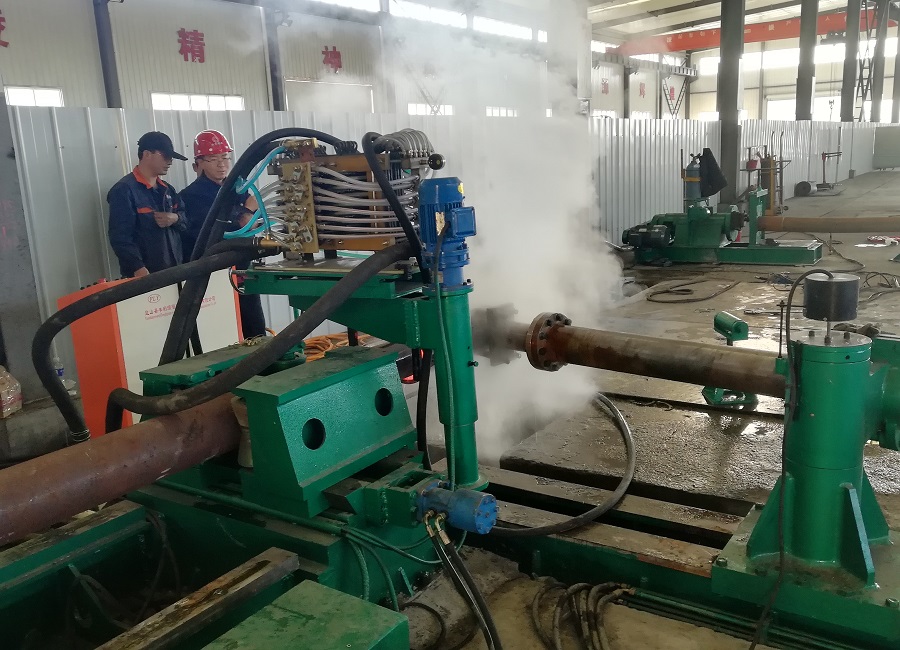 Production range:OD60mm-2000mm(2-80inches)
Radius:2.5 D ≤ R ≤ 10D ≤ 15000mm.
Thickness:2-90mm.
Angle:0-180 degree
Bending material: Carbon steel, alloy steel, stainless steel.
Operate way: Manual, PLC.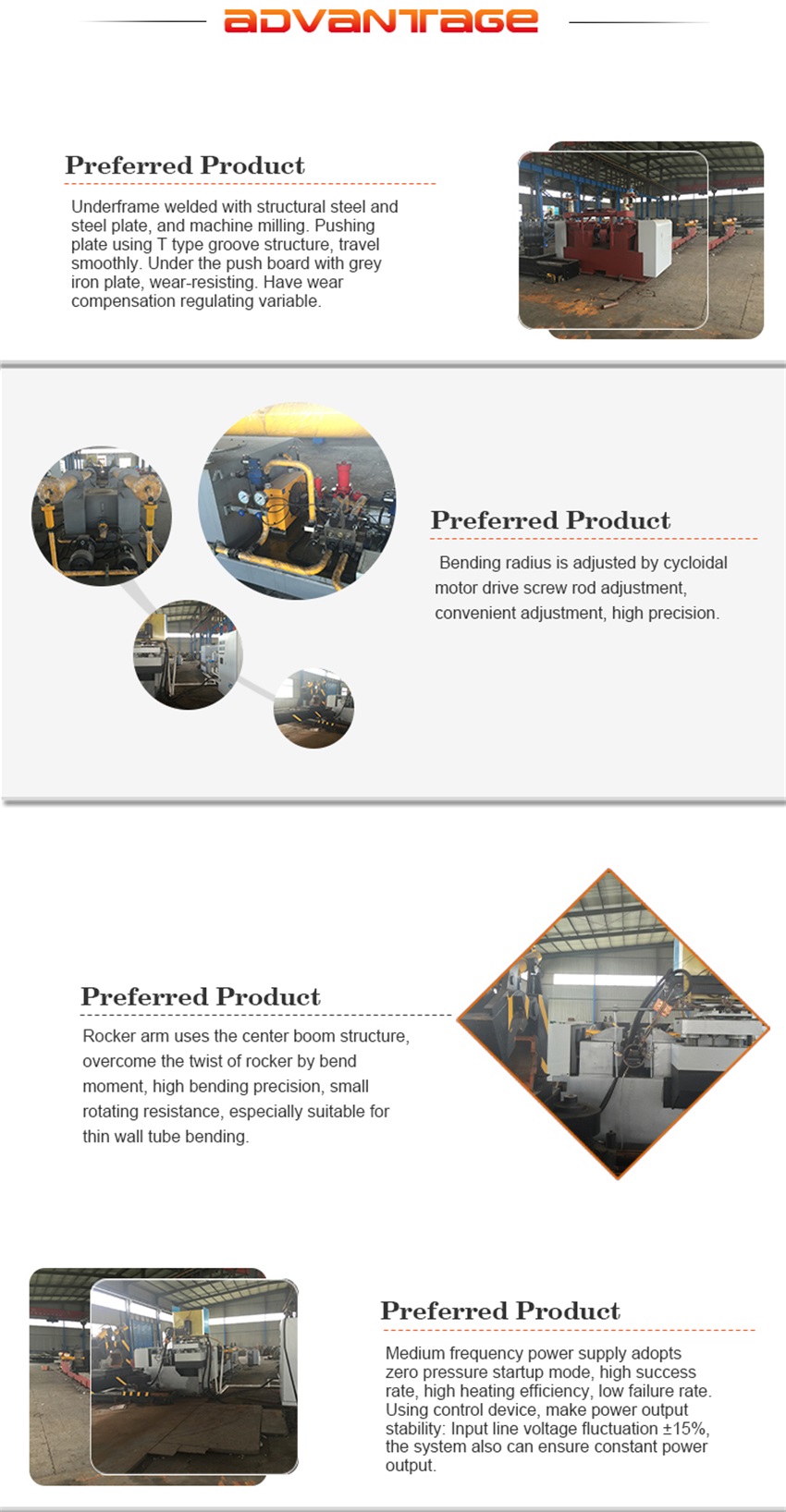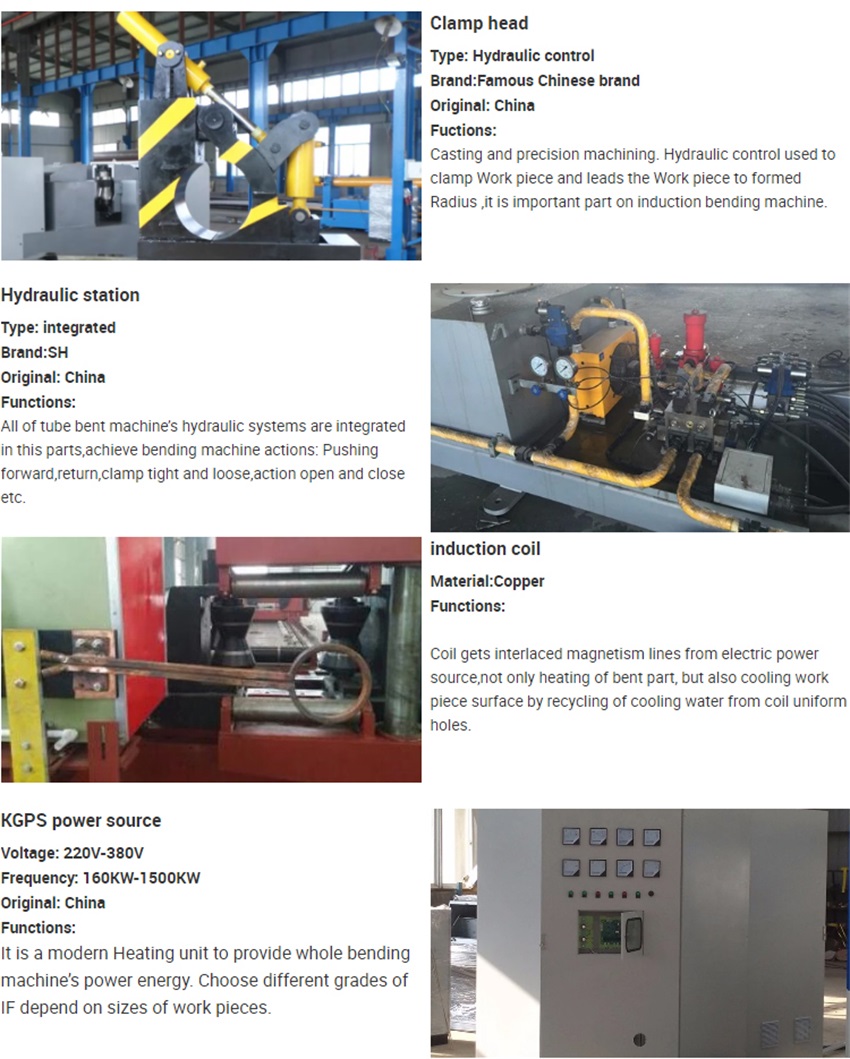 Our PLC Automatic Induction Pipe Bending Machine has following advantages:
1.2 Main body is strength and durable.
1.3 Underframe welded with structural steel and steel plate, and machine milling. Pushing plate using T type groove structure, travel smoothly. Under the push board with grey iron plate, wear-resisting. Have wear compensation regulating variable.
1.4 Bending radius is adjusted by cycloidal motor drive screw rod adjustment, convenient adjustment, high precision.
1.5 Hydraulic system uses frequency control, working speed stepless variable speed, convenient adjustment, improve the production efficiency, saving energy save electricity. According to the feeding speed control motor speed, adjust the fuel delivery accordingly, on-demand oil supply, hydraulic oil without high pressure unloading, the oil temperature not too high.
1.6 Rocker arm uses the center boom structure, overcome the twist of rocker by bend moment, high bending precision, small rotating resistance, especially suitable for thin wall tube bending.
1.7 Medium frequency power supply adopts zero pressure startup mode, high success rate, high heating efficiency, low failure rate. Using control device, make power output stability: Input line voltage fluctuation ±15%, the system also can ensure constant power output.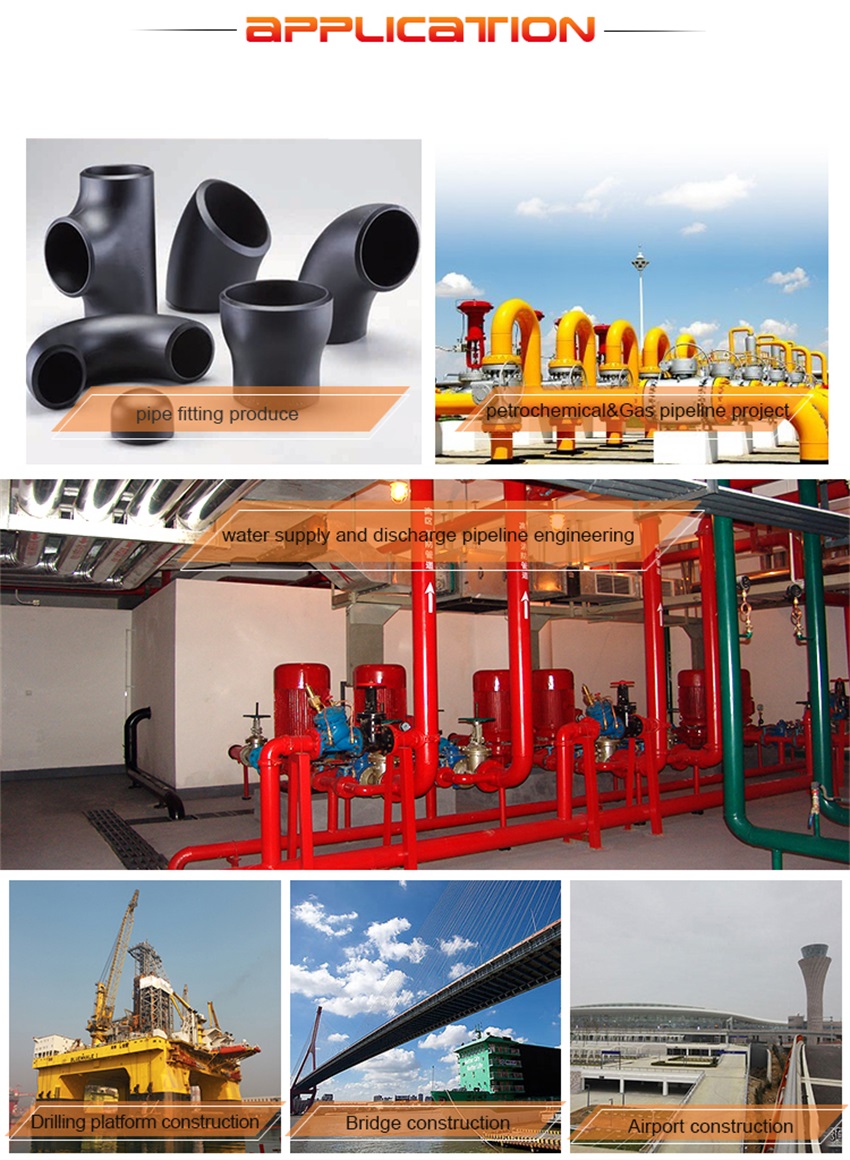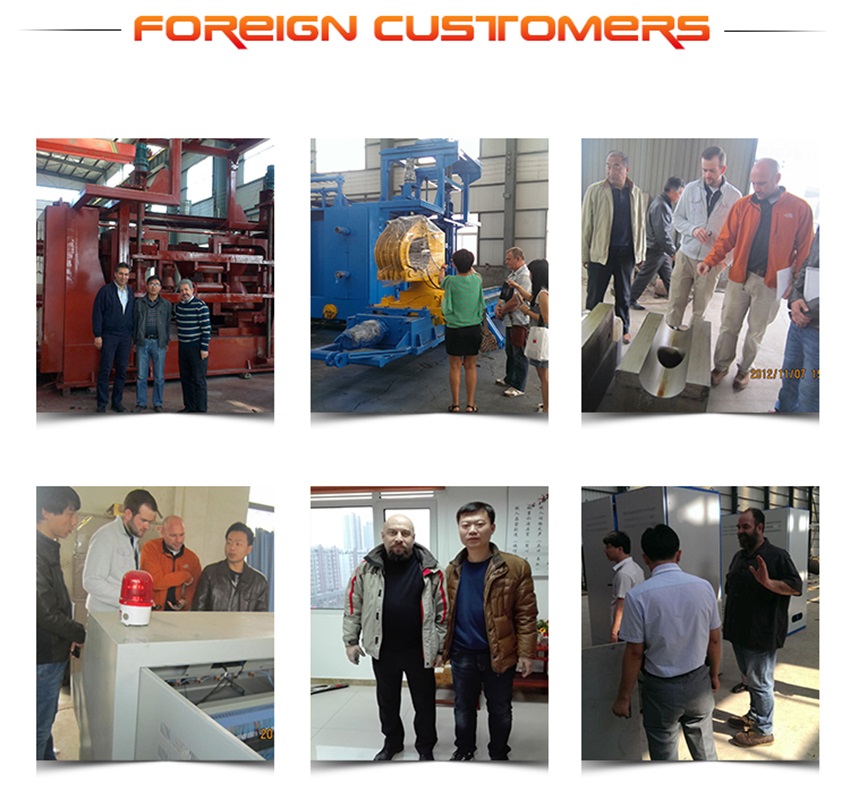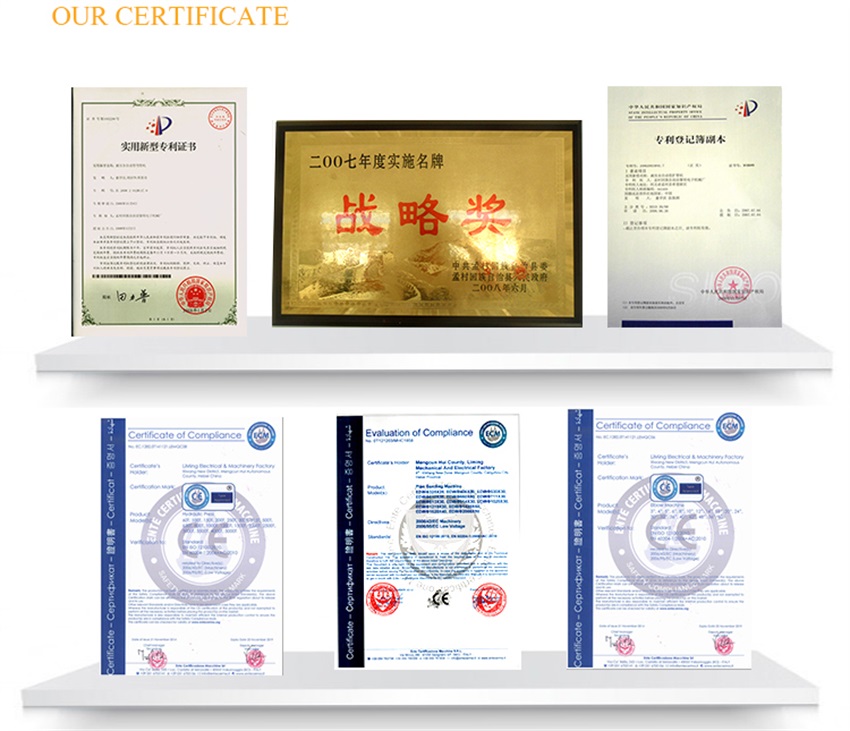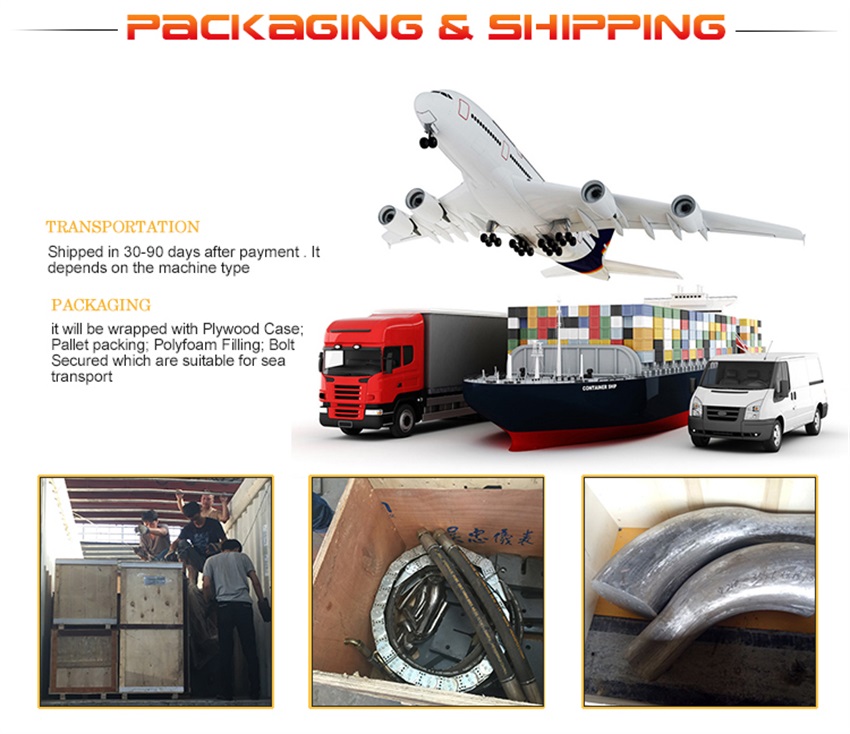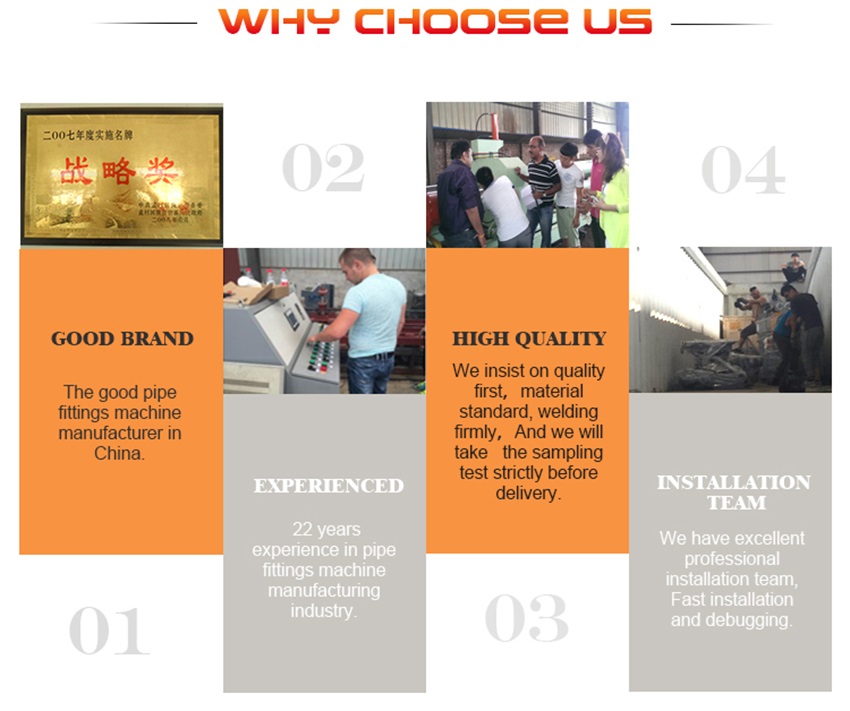 HEI YAN INT'L DEVELOPMENT LIMITED
Contact person:HeiYan
Tel:+8618931727100
Whatsapp:+8618931727100
Fax:+86-317-3072427
Email:sales1@heiyangroup.com
Address:Building A of One World Business Center.Cangzhou.Hebei.China.

Leave Message
Please feel free to give your inquiry in the form below.We will reply you within 24 hours